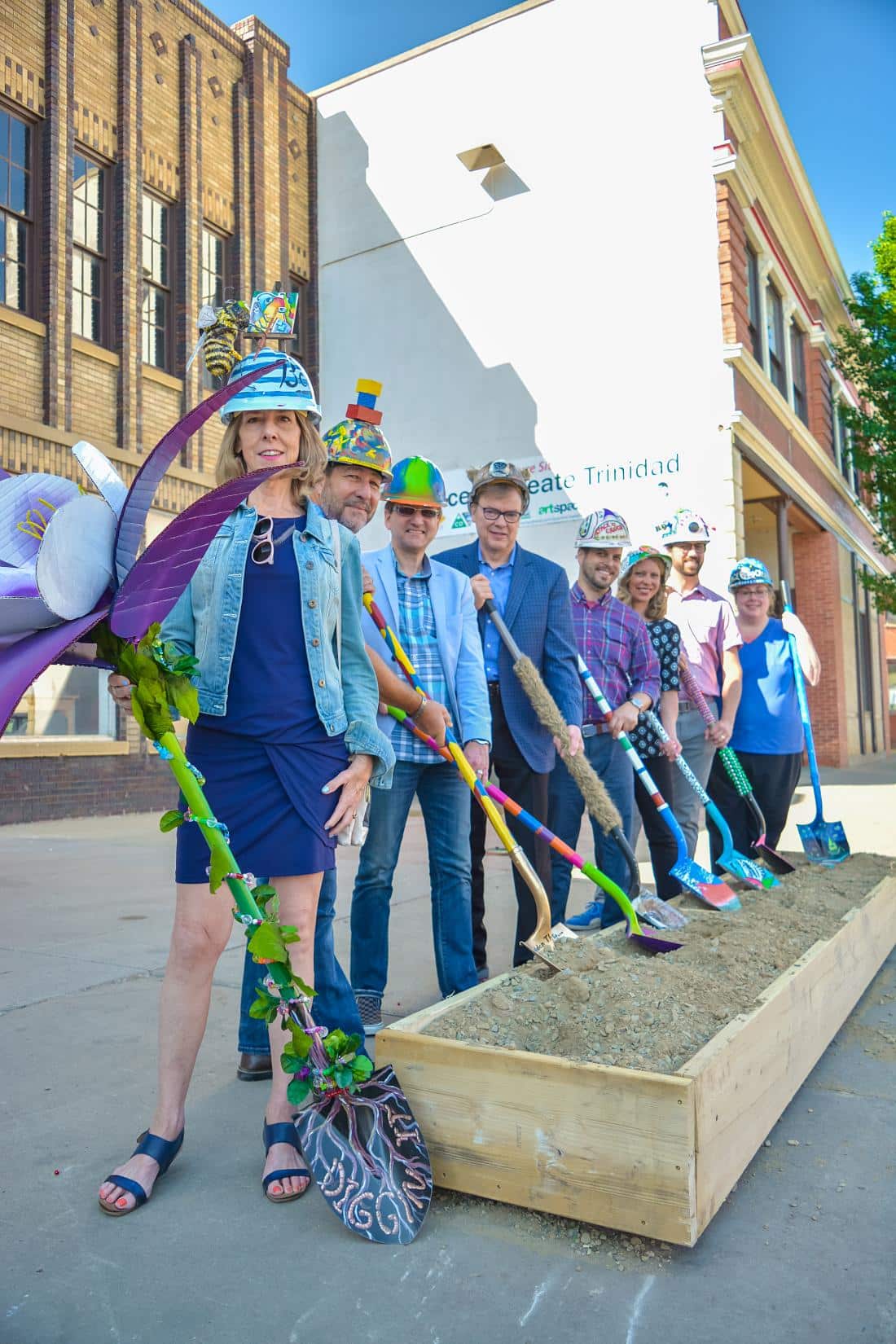 Pictured above is the ribbon-cutting ceremony and breaking ground for Trinidad's Space to Create in Summer 2018. 
Space to Create
13 units available for leasing now!
Trinidad's Space to Create project is bringing 41 affordable rental units to the city for artists.  This demonstration program will define how artists can spark interest and development, bring jobs, entice tourists, and help educated children in several rural and mountain communities scattered across Colorado.  The Trinidad project, managed and led by Artspace, broke ground in the summer of 2018 and has transformed an entire historic block on Main Street into a 103,000 square foot complex with 13 rental apartments and 20,000 square feet of community space. These 13 units are now available for leasing; for more information on applying, please contact artspaceloftsmanager@silva-markham.com.
A second 35,000 square foot building is located nearby on Elm Street and contains another 28 live/work apartments. The Space to Create Commons is on either side of the Main Street property, and will eventually feature galleries, maker facilities, gathering areas, and retail space. Partners in this exciting project include the Department of Local Affairs, History Colorado, the Office of Economic Development's Colorado Creative Industries, and the Boettcher Foundation. Trinidad was certified as a Colorado Creative District in 2013.

The first 13 units of this initiative are now ready to lease! Please contact artspaceloftsmanager@silva-markham.com if you are interested in applying.
Q: Are the units available for leasing yet?
YES! Even with the challenge of working through the COVID crisis we have all been facing, Gibbs Construction is wrapping up the finishing touches on the Main Street site in Historic Downtown Trinidad (a historic adaptive reuse project), and thirteen units are now available for leasing!  Each unit is unique, but the general feel and design are similar across the building.  The units are spacious, with over-sized windows providing TONS of natural light,  and durable floors, countertops, and surfaces,  which make the apartments perfect for those looking to advance their creative pursuits in a live/work community. The Elm Street site, which is a new building entirely, is also ready for leasing now. 
Q: What are the eligibility requirements?
Eligibility requirements vary by project.  In Trinidad, where we are using Low Income Housing Tax Credits (LIHTC) to help finance the project, applicant income must fit into one of three categories as defined by HUD.  Those three categories are that the household (defined as the group of people living in the unit and on the lease) must be under the threshold of either 40% Area Median Income (AMI) for Las Animas County, 50% AMI, or 60% AMI.  Additionally, applicants must pass a background check, and show ability to pay rent consistently.
Q: How much do the units cost?
The unit cost varies based on a variety of factors- unit type (Efficiency/studio, 1 bedroom, 2 bedroom), household size, and what level of AMI the applicant qualified under. Roughly speaking, units cost 30% of a tenant's AMI designation.  For example, if a single person wanted to rent an efficiency studio and qualified under the 40% AMI (set in 2019 at $19,080 for Las Animas county), their rent would be roughly 30% of their monthly income.  In this scenario, their monthly income calculation would be $1,590 ($19,080 AMI divided by 12 months), so their rent would be roughly $477 (30% of $1590).  I would stress that it is best to understand that this is just a rough calculation and a best attempt at a simple explanation. There are a handful of factors involved.  One key thing is that rents are not determined by the tenant's income, but by their AMI designation at move-in.
Q: What is Artspace?
Artspace is the leading non-profit developer of live/work artist housing, artist studios, arts centers, and arts-friendly businesses in the U.S. We develop, own, and operate affordable spaces for artists, arts & cultural organizations, and creative businesses. To date, we have over 52 properties in operation, with another 5 projects in active development.  These properties house over 1,400 artists and their families, provide commercial studio space for 500 artists and/or businesses, and amass roughly 3.4 million square feet of arts-related activities. Our mission is to create, foster, and preserve affordable and sustainable space for artists and arts organizations.
Learn More Here
Space to Create Floorplans
13 units available for leasing now at Main Street location!