The Many Ways
to Explore Trinidad
Trinidad is the proud home of a number of opportunities for adventure and exploration; whether you enjoy road trips, museums, art galleries, or outdoor recreation, there is something for everyone. Below, you'll find some of these explorations already lined out for you; pick a suggested itinerary and go enjoy! If you'd rather choose your own adventure, check out our Outdoor page for outdoor recreation activities, our Eat & Drink page for tasty eats, our Shop page for our listing of local shops, or our Museums and Arts and Culture pages for our cultural and creative happenings!  We hope you enjoy and please contact us with any questions about your visit!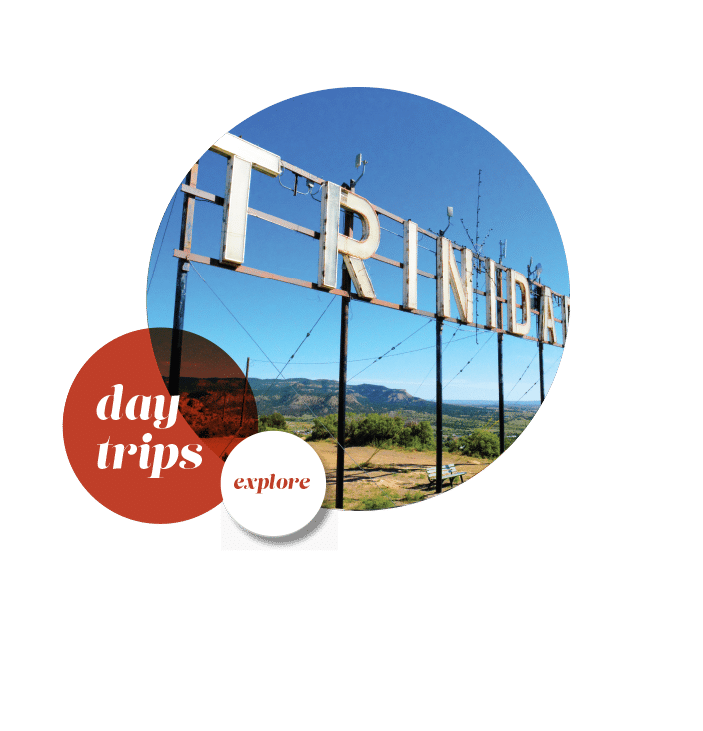 Suggested Itineraries
Visiting town and not sure where to start enjoying the many things Trinidad has to offer? Feel free to check out our suggested itineraries below and use all or parts of them as a guide while you are in town! More suggested itineraries are in progress, so check back soon for more recommendations on activities you can enjoy in Trinidad!
Kick start your mountain biking adventure by grabbing tasty breakfast burritos!
Pick up any cycling supplies or gear, or inquire about availability for repairs/maintenance at Pop's in downtown Trinidad or Ultimate Sports and Nutrition on U.S. 350.
***Before riding any of the trails below, please decontaminate your bike tires because although we do have goatheads on some trails, not all of them have this issue, and we'd like to minimize the spread of this invasive species. Also consider sliming your bike tires before riding so you don't pick any up and take them with you!
Head to these trails built by our community members and located within Trinidad's city limits for a ride up onto a ridge with scenic views and varied terrain.
Please note: These trails do have some big exposures, so feel free to walk your bike in places that are too high for your liking. Also, be sure to bring plenty of water and use the restroom before heading out, as there are no facilities at this trailhead.
Pick up some tasty street tacos to go!
Head out to Trinidad Lake State Park for an afternoon ride through thick trees with the occasional scenic overlook. Take the exit for Carpios Ridge Campground (link provided) and park in the lot by the visitor's center. Pay at the pay station (9.00 daily rate and good for 24 hours from purchase. Credit cards or cash accepted.), place the receipt on the dash of your vehicle, and then head to the trailhead (link provided) located just outside the campground restrooms.
Please note: This is an out and back trail, not a loop and is also used by hikers, so be mindful of others when going around blind corners. The occasional wild animal is also observed, so be on the lookout.
Check out Walter's for happy hour specials, food, and various brews on tap. On weekends, you may enjoy occasional live music. If you'd rather eat at your accommodations, takeout is available and you can grab drinks to go at the Tire Shop Wine and Spirits nearby.
***Special thanks to community member and active contributor to our cycling community, Patrick Nye, for his help putting this itinerary together. In addition to being an active mountain biker himself, he also played a key role in building and maintaining the Wormhole loop and Sandstone trails and maintains the DownHill Solutions YouTube channel, which focuses on cycling in southern Colorado. For more information on general outdoor activities, see his other Youtube channel called Trinidad Outdoors. We hope you enjoy your time here and please contact us with any questions!
Trinidad is home to five museums, three of which are currently regularly open and are included in this itinerary. Trinidad also has two other museums, the Louden-Henritze Museum of Archaeology and the Miners Museum, but they are not currently regularly open. Private tours may be scheduled at the Miner's Museum in advance.
Start your day off right at Tony's Diner, just down the way from the Trinidad History Museum. Try the huevos rancheros with a good cup of coffee!
This museum is part of a larger complex of museums administered by the History Colorado. Visitors receive an in-depth view of Trinidad's history, which is set within the larger context of the region. Be sure to check out this unique museum located inside the Baca House, which is a piece of history itself! Donations are very appreciated. Open Tuesday-Saturday, 10 a.m. – 4 p.m.
Grab a tasty bite to eat at The Café on Main Street. Enjoy a salad or a wrap with a specialty beverage or baked good!
Right across the street from the Café, you'll find the AR Mitchell Museum of Western Art, which features works by Arthur Roy Mitchell, an illustrator and artist specialized in Western art, along with various pieces by other artists working in the same genre, early Hispanic and native American pieces, and historic photographs. Donations are very appreciated. Open Tuesday-Saturday, 10 a.m. – 4 p.m.
If you're wanting a quick snack or beverage, stop in at Perkatory Café before hopping into the car or onto your bike to head out to Art Cartopia Museum. Try a latte with a muffin or dessert bar baked in-house…you will be glad you did!
Drive to Art Cartopia Museum to finish off the day with a zany twist! Art Cartopia is an art car museum that sprang out of the wild success of Trinidad's yearly art car parade, ArtoCade. In addition to the art cars parked out front, visitors can peruse a huge garage full of over 15 fantastical art cars, as well as the indoor art gallery and new outdoor sculpture garden. Donations are very appreciated. Open Tuesday-Saturday, 10 a.m. –  5 p.m.
After a long but satisfying day touring Trinidad's museums, you're probably ready for a good dinner! Moose's Social Club and Martini Bar features a full bar, tasty comfort fare, and patio seating, in addition to the cozy rustic dining available indoors.
***Special thanks to community member and active board member/museum enthusiast Kristen Rogers for her help putting this itinerary together. In addition to being a local museum-goer and board member for both Art Cartopia Museum and Trinidad's Arts and Culture Board, Kristen has also worked in museums in both Chicago, IL and Phoenix, AZ, facilitating activities and projects connecting area communities and museums. We hope you enjoy your time here and please contact us with any questions! 
AVE MARIA SHRINE
The Ave Maria Shrine is on the hillside of the Mt. San Rafael Hospital and is one of the most beautiful and mysterious landmarks in Trinidad. It is said that in 1908 a physician caught in a storm was led by a flickering light to a statue of the Virgin Mary that mysteriously appeared on this hillside. This Shrine is now a sanctuary of peace.
TrinidadCatholic.org
The shrine is not open to the public.
To visit the shrine call: 719.846.3369
LUDLOW HISTORIC MONUMENT
Fifteen miles north of Trinidad is the Ludlow Historic Monument, the site of the Ludlow Massacre. The Ludlow Massacre Memorial is the most sacred place of the working class. The restoration undertaken by the United Mine Workers of America includes a miner's tent camp, storyboards and photos that recount the encounter between the Colorado National Guard and striking coal miners that left 20 people dead.
15 Miles from Trinidad
SIMPSON'S REST & TRINIDAD SIGN
Standing high above Trinidad on a historic sandstone bluff is Simpson's Rest. With the Trinidad sign perched on top and lit at night it is easy to spot. The bluff that overlooks the city from the north can be reached using the road at the western end of North Avenue. Once there, you will have spectacular views. Buried at the top of the Rest is George S. Simpson (1818-1885) a famous scout, trader, explorer, and trailblazer. This spot is also noted for its fossilized remains of pre-historic life forms that have been preserved within the strata.