The Many Ways
to Explore Trinidad
Trinidad is the proud home of a number of opportunities for adventure and exploration; whether you enjoy road trips, museums, art galleries, or outdoor recreation, there is something for everyone. Below, you'll find some of these explorations already lined out for you; pick a suggested itinerary and go enjoy! If you'd rather choose your own adventure, check out our Outdoor page for outdoor recreation activities, our Eat & Drink page for tasty eats, our Shop page for our listing of local shops, or our Museums and Arts and Culture pages for our cultural and creative happenings!  We hope you enjoy and please contact us with any questions about your visit!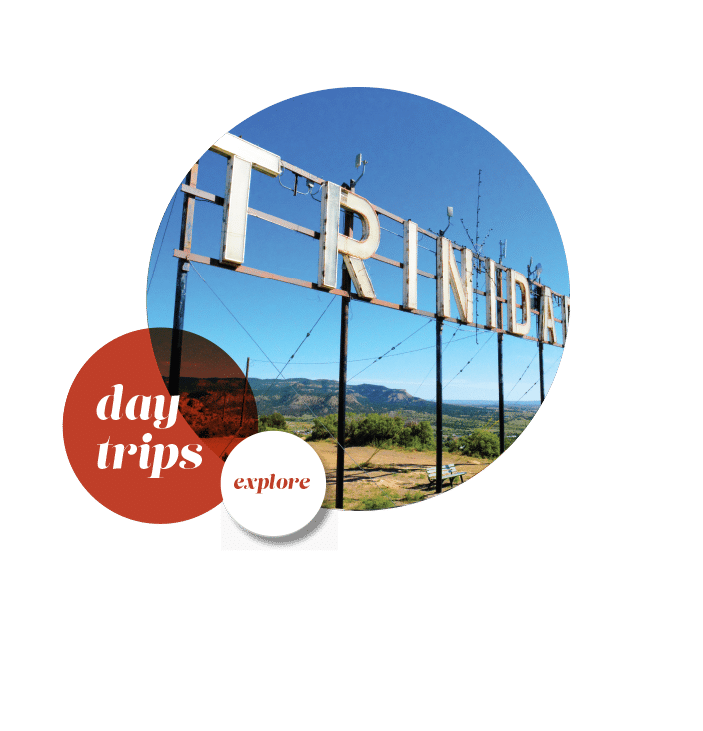 AVE MARIA SHRINE
The Ave Maria Shrine is on the hillside of the Mt. San Rafael Hospital and is one of the most beautiful and mysterious landmarks in Trinidad. It is said that in 1908 a physician caught in a storm was led by a flickering light to a statue of the Virgin Mary that mysteriously appeared on this hillside. This Shrine is now a sanctuary of peace.
TrinidadCatholic.org
The shrine is not open to the public.
To visit the shrine call: 719.846.3369
LUDLOW HISTORIC MONUMENT
Fifteen miles north of Trinidad is the Ludlow Historic Monument, the site of the Ludlow Massacre. The Ludlow Massacre Memorial is the most sacred place of the working class. The restoration undertaken by the United Mine Workers of America includes a miner's tent camp, storyboards and photos that recount the encounter between the Colorado National Guard and striking coal miners that left 20 people dead.
15 Miles from Trinidad
SIMPSON'S REST & TRINIDAD SIGN
Standing high above Trinidad on a historic sandstone bluff is Simpson's Rest. With the Trinidad sign perched on top and lit at night it is easy to spot. The bluff that overlooks the city from the north can be reached using the road at the western end of North Avenue. Once there, you will have spectacular views. Buried at the top of the Rest is George S. Simpson (1818-1885) a famous scout, trader, explorer, and trailblazer. This spot is also noted for its fossilized remains of pre-historic life forms that have been preserved within the strata.