Find things to do and enjoy events like Open Mike Night from 6:30 to 9:30 p.m. every Friday at Las Animas Grill, where local and traveling musicians jam and perform. During Summer 2019 and continuing through September, locals and visitors alike can also enjoy the eclectic musical mix introduced by Randini's Musical Circus, which is a music series comprising performances by various artists every other Saturday night at Las Animas Grill. Other venues in town that feature music are Brix, Gino's, Tees Me Treat Me, and Moose's Social Club and Martini Bar. Meanwhile, for instruments or related supplies and services, you can visit Ike's Music (formerly the Columbia Hotel), which offers vinyl, ukuleles, string instruments, lessons, recording services, and live sound, while also gazing at one of the most ornate ceilings in the city.
TRINIDAD, COLORADO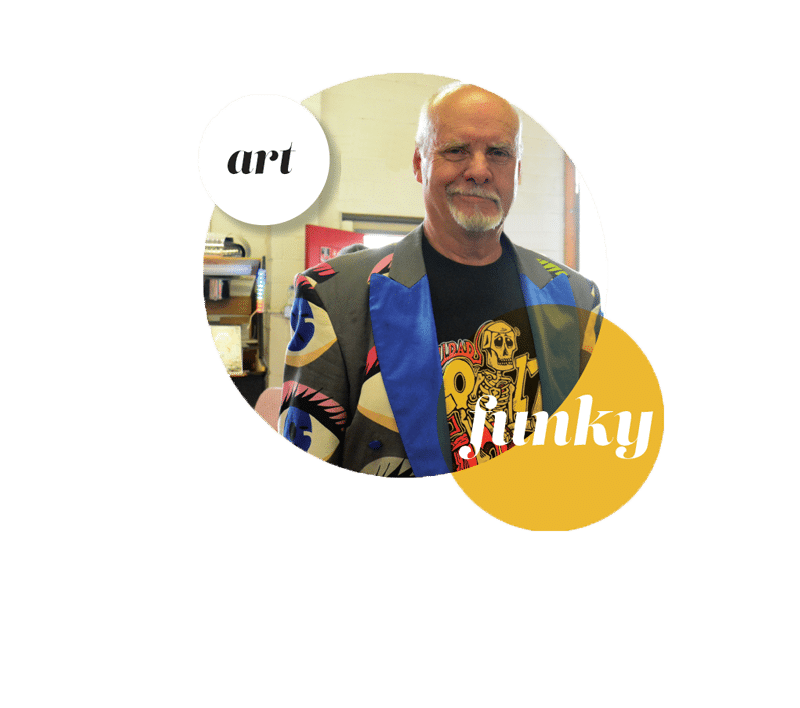 MEET RODNEY WOOD
Eclectic Fine Artist, ArtoCade & Art Cartopia Director, Ubiquitous Art Guy of Many Hats
Rodney Wood, recipient of the "2018 Governor's Leadership Award—Arts and Community Action," is one of Trinidad's most extraordinary local and fine artists. On a tour of the country in search of outsider visionary artists, weird museums, abandoned architecture and roadside attractions, Wood discovered an art car parade that left an indelible imprint on his creative senses. When asked to pitch a signature event, he thought, "This is my chance." And from this sprung Trinidad's annual ArtoCade, the second largest art car event in the nation. Described as wacky and family-friendly, wildly creative and completely fun, Trinidad's ArtoCade festival, a parade (and party) of artfully decorated vehicles has received the Governor's Award for best Small Town Festival and has given birth to Art Cartopia Museum, which is a celebration of all things artcar, is open year-round, and currently has free admission.