Readers, you are in for a special treat (pun entirely intended)! Tourism Board member Amanda Littrell took it upon herself to interview a fellow business owner in town, Colie's owner Nicole Paradisa, on how she has experienced the pandemic. Their conversation and Amanda's introduction are directly below. Enjoy, and stay tuned for more news and insights from our community! Note: Content has been edited for clarity.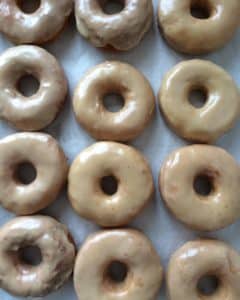 Amanda Littrell here, with a very important question for you! Have you ever tasted a fresh doughnut? As in…one that is right out of the fryer, freshly glazed with sugar, and pure melt-in-your-mouth-goodness? If you haven't, you definitely need to visit Nicole Paradisa's bakery, Colie's, on the 1st or 3rd Friday of each month to experience this joy. The apple fritters, blueberry cake-style and classic glazed doughnuts are so full of flavor that no other doughnut will ever compare. As she is one of the newest business owners in town, I wanted to ask what life has been like for her since the pandemic hit. I hope you enjoy what she shares, are staying safe, and if you missed doughnut week, you can still visit Colie's anytime for a raspberry scone or a delicious cinnamon bun.
Q: What do you think has been the toughest decision or change in your business during this pandemic? 
"One of the toughest decisions I have made during this pandemic was determining whether to try and weather the storm. I didn't want to put my employees in harm's way for their own sake, and also because I will need their help in the future. I also knew closing the doors wasn't an option with all the bills I have to pay. I am thankful that I was able to make the personal decision to remain open due to my classification as an essential business, and I truly feel for those who did not have that choice. I felt even more compelled to stay open when our awesome community kept showing up to the bakery. I couldn't let them down."
Q: Who and/or what have been your biggest guides or sources of help through this?
"Some of my biggest sources of help and guidance have been my family and friends, who share vital information with me when they get wind of it first. My boyfriend has also been a huge help. His businesses were mandated to close and when I needed help because we were short-handed, he was able to be there!  Sawaya Wholesale has also been tremendously helpful, as they stayed open to supply us with ingredients, despite the fact that business has slowed down for them too. I am thankful for people like Jay from Las Animas Grill, who molded his business into something different to help get essential food to our community members and my business. Everyone is in this confusion and chaos together."
Q: What has the pandemic taught you about being a business in a small town? 
"This pandemic has taught me how awesome it is to be in business in a small town. Family will always be there for you…during the good times and also when times are tough. My small town is like my family."
Q: What are you looking forward to in the coming months?
"I am looking forward to working together with my team again, greeting people with a big smile that is not hidden behind a mask, dining in the bakery and sharing pastries with friends and family, receiving orders for parties larger than ten people, and the day when the confusion and chaos subside."
Q: How are you practicing self-care during this time? What do you do for yourself?
"I am trying to focus on one thing at a time and take things day-by-day and do a lot of intentional deep breathing. On March 19th, I was overly stressed about the pandemic and rolled my fingers and hand through my automatic dough sheeter. I believe that was God's way of telling me to slow down, which I then had to do because I had injured my left hand."
Q: What has been your favorite thing to make in the bakery this spring?
"One of my favorite things to make (and eat) has been our lemon bars! They are so creamy, tart, and brighten up my soul!"
Q: I loved the Lysol and TP cake… was that a request for a customer?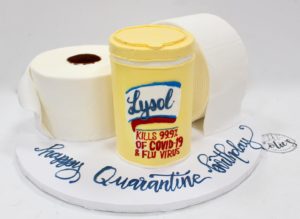 "Yes, the Lysol TP cake was for a returning customer. She has requested that I make a casino chip cake (I didn't snap a quality photo of that bad boy. It was 3 large cakes stagger-stacked to look like casino chips), her Harley-Davidson inspired wedding cake, and another super cool cake coming soon that I can't describe in case it's a surprise. She originally planned for a TP cake, but then cancelled that order because… ya know.  In the end, she still wanted to celebrate her birthday, so she ordered the Lysol cake."
Q: What is (normally) your busiest time of year?
"I would say May is the cousin to Christmas. Christmas is our busiest time of year, but May is second for sure! So many special events are happening, like Mother's day, Graduation, teacher appreciation, nurse week, correctional officer week, the kickoff to the wedding season, memorial day weekend … so many things are getting recognized and celebrated. May is crazy."
There is no doubt about it… living in a small town does have its perks. Trinidad's supportive community helps small businesses like Colie's Bakery survive, even during a pandemic. In times of uncertainty, collaborating together is what keeps us Colorado Strong. Stay informed and compassionate with us through our weekly blog.