Margaret Hedderman with Start-up Colorado interviewed Wally Wallace, Economic Development Coordinator to find out more about the ArtSpace project that is taking off in Trinidad, starting with 14 units on Main street that are now available for leasing (email artspaceloftsmanager@silva-markham.com to apply!). The interview was distributed as a short podcast, which is available HERE.
Key excerpts from the interview are below and at the bottom of this post, you'll find more general information about Space to Create, as well as links and contact information to get more information and/or apply!
During the podcast, Wally described the amazing transformation in both physical space and the community that is being brought about by the Trinidad Space to Create project."We worked with Artspace out of Minnesota and the State of Colorado to run this $18 M project that took an entire city block of buildings that were falling over and turn them into really, really awesome artist live work spaces…Trinidad is a very creative community.  We have artists who have retired here and we have an entire gallery row on our Main Street that has a lot of original art works!"
Margaret Hunt, Director of Creative Industries within the Office of Economic Development and International trade explains that Space to Create targeted Trinidad "because at the time when Trinidad became a Creative District, they had a downtown vacancy rate of over 68%. We thought this was a great demonstration project to show how a creative district and providing a live/workspace can have a turn-around effect on an economy that has been in the toilet for a long time. What were really trying to do is help people who have a creative pursuit grow it so it can become their full time occupation."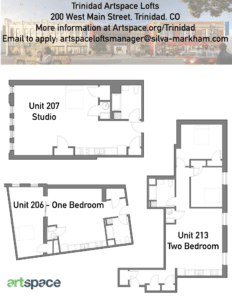 Trinidad Space to Create is the demonstration project for Space to Create Colorado, a state-led initiative to create affordable creative sector and workforce housing and workspace in rural Colorado communities.  Trinidad Artspace has transformed the entire 200 block of downtown Main Street into a dynamic complex that combined three historic structures, linking the second stories of all three with 13 affordable, live/work apartments for creatives. These units are nearly complete and applications are now being reviewed. Street-level amenities will feature a "dirty" makerspace for tenants to utilize, and the city's own, 25,000-square-foot cultural facility, both of which are scheduled for completion this summer. Six blocks away, next to a historic train depot and across from a park, Artspace has nearly completed the construction of a brand new building with 28 more units of affordable live/work apartments that are expected to be complete in September.
The project is funded through low income and historic preservation tax credits as well as philanthropic organizations. Interested applicants can check in with property management Silva-Markham to make sure they meet the low income housing requirements. Email artspaceloftsmanager@silva-markham.com to apply. For commercial leasing, contact wally.wallace@trinidad.co.gov and include Trinidad commercial leasing in the subject line.