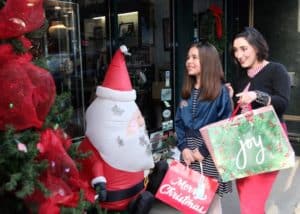 Following her work with the Trinidad and Las Animas County Chamber of Commerce and the Historic Main St. Group to develop a Shop Local program using funds supplied by the SE Colorado Small Business Development Center, Marty Hackett developed an even deeper awareness of the importance of supporting independent businesses and uncovered some interesting findings when researching its significance for local communities. Her insights are shared in the below list, "Ten Great Reasons to Shop Small, Shop Local" and we hope you will join us in supporting Trinidad's Shop Small, Shop Local program this holiday season.
We need our small businesses and we need YOU!
"I knew in my heart that I would rather not patronize the big box stores and dominant corporations, but it gets to be a habit.  It's only at Christmas when I am looking for that unique gift that I stroll through downtown shops and really find something special for my loved ones!"
-Marty
Ten Great Reasons to Shop Small, Shop Local
Local Character and Prosperity – In an increasingly homogenized world, communities that preserve their one-of-a-kind businesses and distinctive character have an economic advantage.
Community Well-Being – Locally owned businesses build strong communities by sustaining their Main Streets, linking our neighbors in a web of economic and social relationships and contributing to local causes. These are the people we go to when we need donations for our causes!
Local Decision-Making – Local ownership ensures that important decisions are made locally by people who live and work in the community and who feel the impacts of those decisions.
Keeping Dollars in the Local Economy – Compared to chain stores, locally owned businesses recycle a much larger share of their revenue back into the local economy, enriching the whole community. They are the ones who will also purchase locally, hire locally, and spend their earnings from sales locally!
Jobs and Wages – Locally owned businesses create more jobs locally and may even provide better wages than chains do.
Entrepreneurship – Entrepreneurship fuels America's economic innovation and prosperity and serves as a key means for families to move out of low-wage jobs and into the middle class.
Community Resiliency – Local stores inhabit our historic buildings, keeping our downtown vibrant and alive.
Competition – Small businesses create a competitive market to ensure innovation and low prices over the long term.
Product Diversity – Small businesses who select products, not on a national sales plan, but on their own interests and needs of their local customers, offer better product and support crafters, and other local businesses such as banks and local service providers.
Small businesses are owned and operated by our neighbors.  They care about and are invested in the well-being of our community and our future! Isn't that enough reason to support our local small businesses and restaurants? 
For more information about Trinidad's Shop Small, Shop Local program, please contact the Welcome Center or keep an eye out for participating businesses around town with the Shop Small, Shop Local flyer in their window.  Please also visit our Shop page for further information.
We are all in this together! We appreciate your support of our small businesses this year and every year and wish you a very happy holiday season!